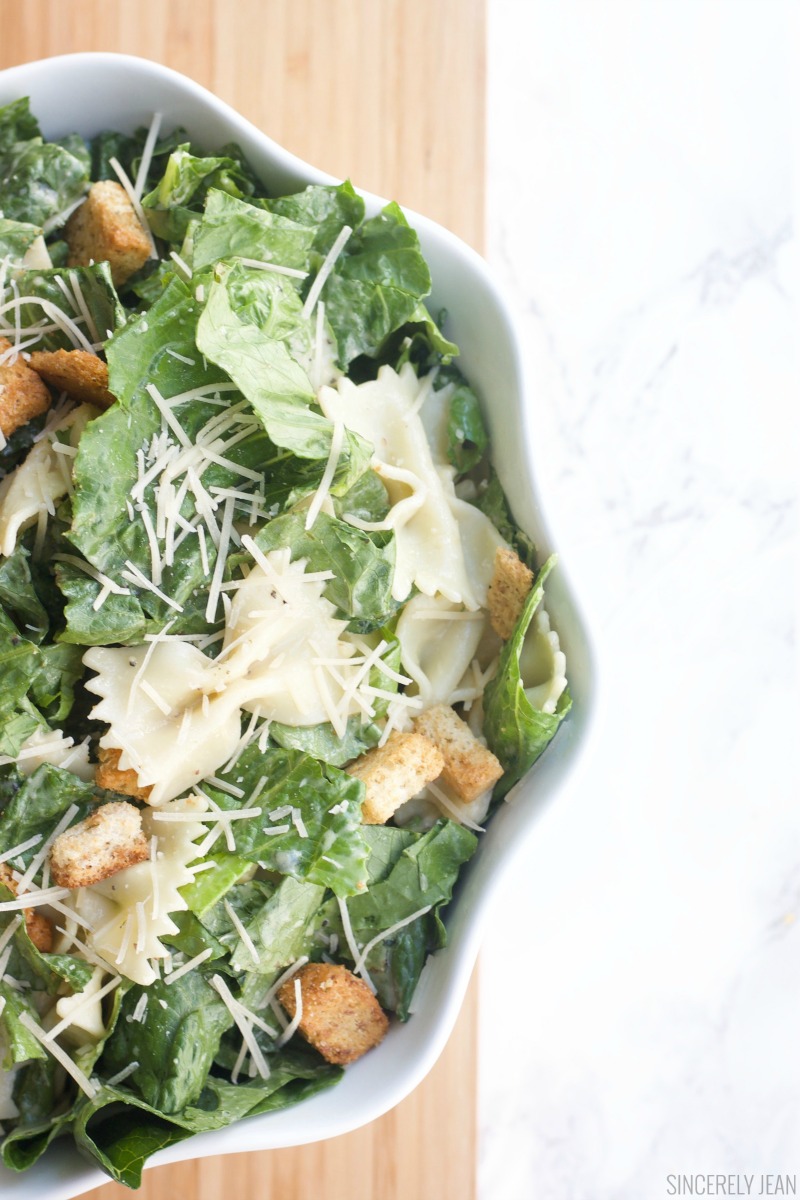 This bow tie caesar salad is one of favorite salads of all time. I have always loved eating caesar salad, especially with my pasta. One day I had the idea to combine the two to make it a pasta caesar salad. It goes great as a meal on its own or as a side. It's also perfect for parties or any type of showers.
It is really simple to make. I boil the noodles first, I rinse them off and let them cool. You can stick in the refrigerator as well. Depending on my time I either stick them in the fridge or just them them cool. I like having them cold from the fridge though because the salad is cold. If I do stick them in the fridge to get cold I always rinse them again before I put them in the salad because they tend to stick together.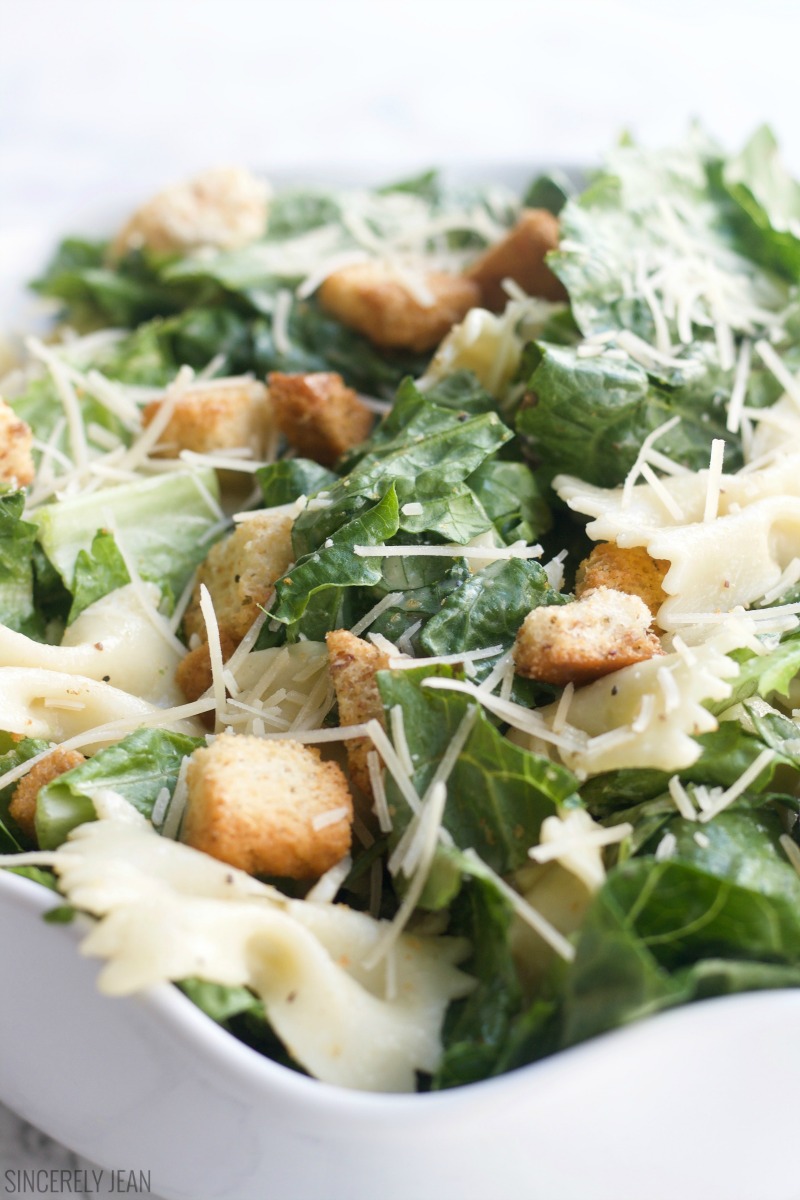 After my noodles are done I chop up my romaine lettuce. You can use whatever kind of lettuce you like but my favorite is romaine. Once chopped I place it in a large bowl and fold in the noodles. I add parmesan cheese, I don't really measure I just sprinkle until my liking. I add the croutons, caesar croutons are my favorite type to use. Then I add the caesar dressing. My favorite brand is Cardini's, it is the best! I don't measure the dressing either. I just poor a little at a time and then toss. It's always better to do less dressing then more because people can always add more.
Bow Tie Caesar Salad
Ingredients
1/3 of a 16oz package of bow tie noodles
1-2 heads of romaine
Shredded parmesean cheese
Croutons
Caesar salad dressing
Instructions
Boil noodles until cooked thoroughly. Drain, rinse, and cool off. Refrigerate if that is to your liking.
Cut up romaine heads and place in large bowl.
Add noodles, cheese, croutons, caesar dressing, and toss.
Amount of ingredients are to your preference.
Serve immediately.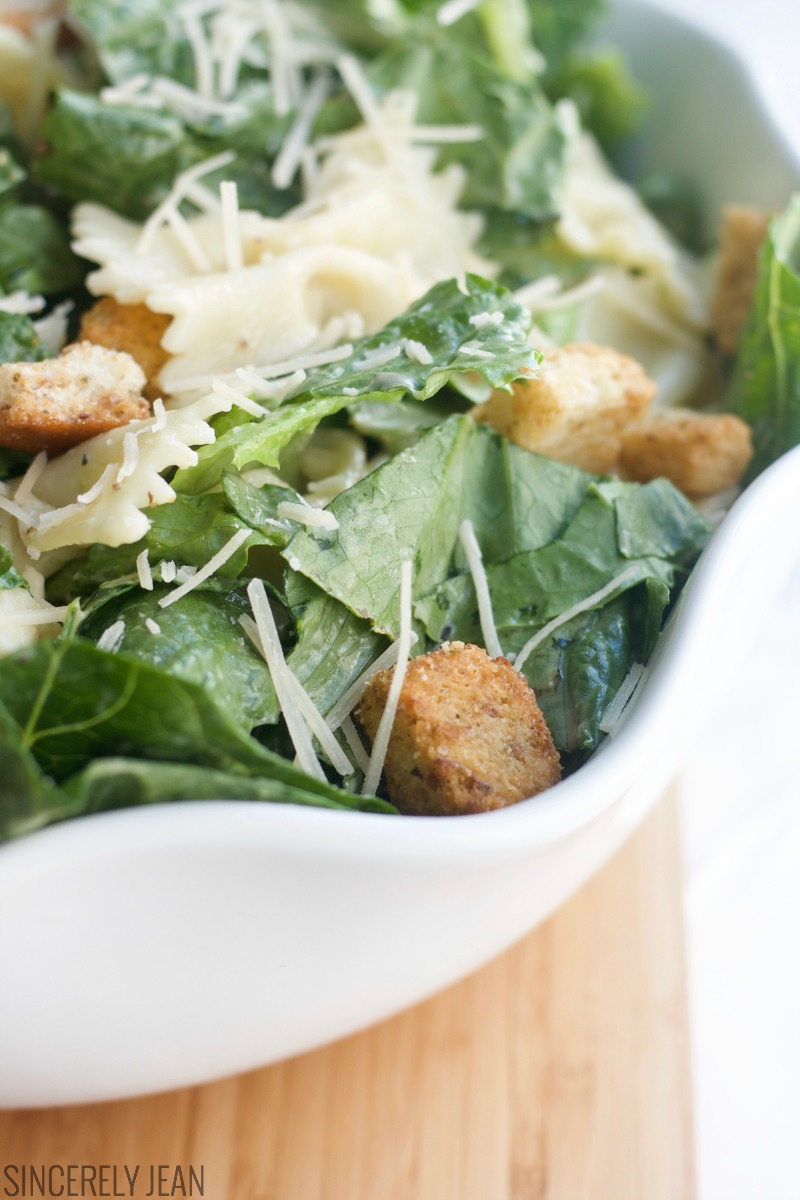 So simple and easy! I like to not have leftovers because the dressing tends to make it a little soggy. This gives me the excuse to eat all of it hehe. This is such a yummy salad that is a staple in our house. Hope you enjoy!
sincerely,
patti jean
We also think that you will love our FREE ecookbook with 30, 5-Ingredient recipes HERE
Also, if you have ever thought about starting a blog, you need to read our HOW TO article!
JOIN THE SISTERHOOD!
If you liked this post we would love for you to share it on social media by clicking the buttons below!
Follow our blog with Bloglovin
PIN FOR LATER: