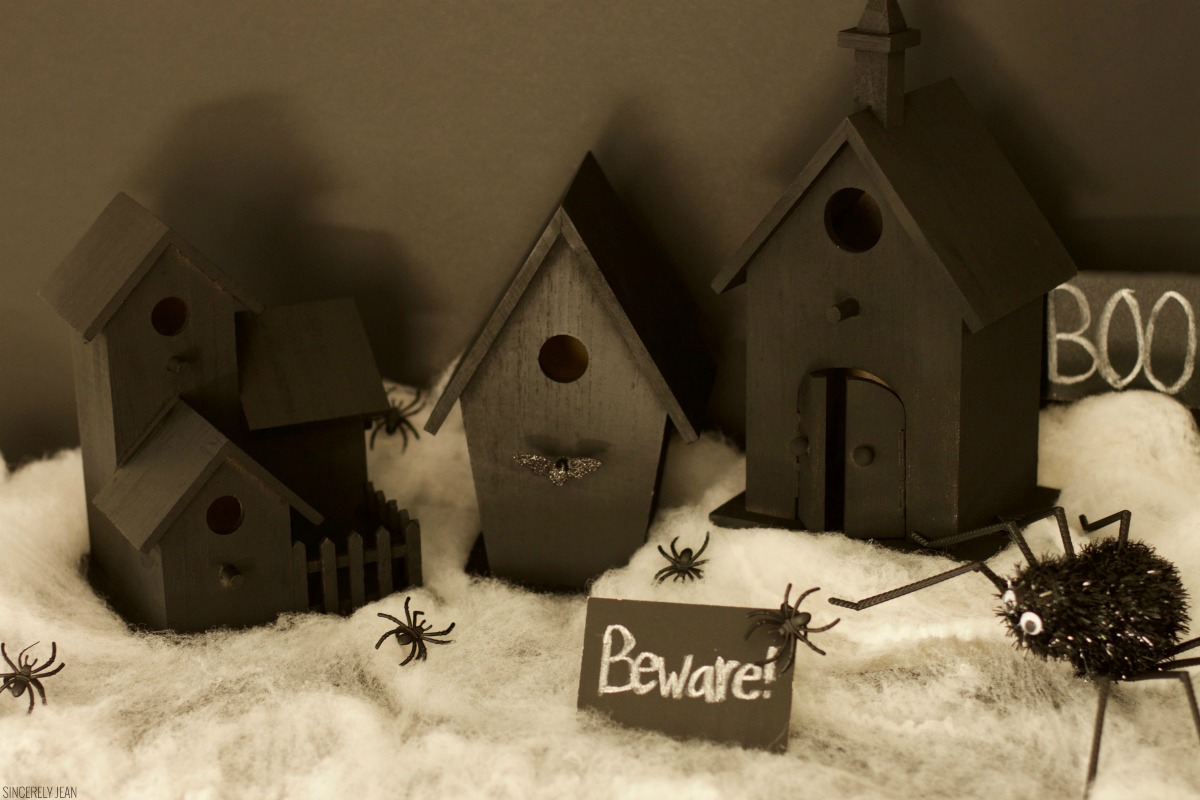 Guess what Besties?! Its starting to become my most favorite time of year, woohoo! It starts with Halloween time, then Thanksgiving and then Christmas! It makes me so happy just to think about it. My house is usually decked out in Fall decorations in burnt orange and brown colors. But this year I have decided that I need to add some more Halloween decorations. The spooky and dark kind. I made the funest DIY Haunted House Village and I just had to tell you guys about it.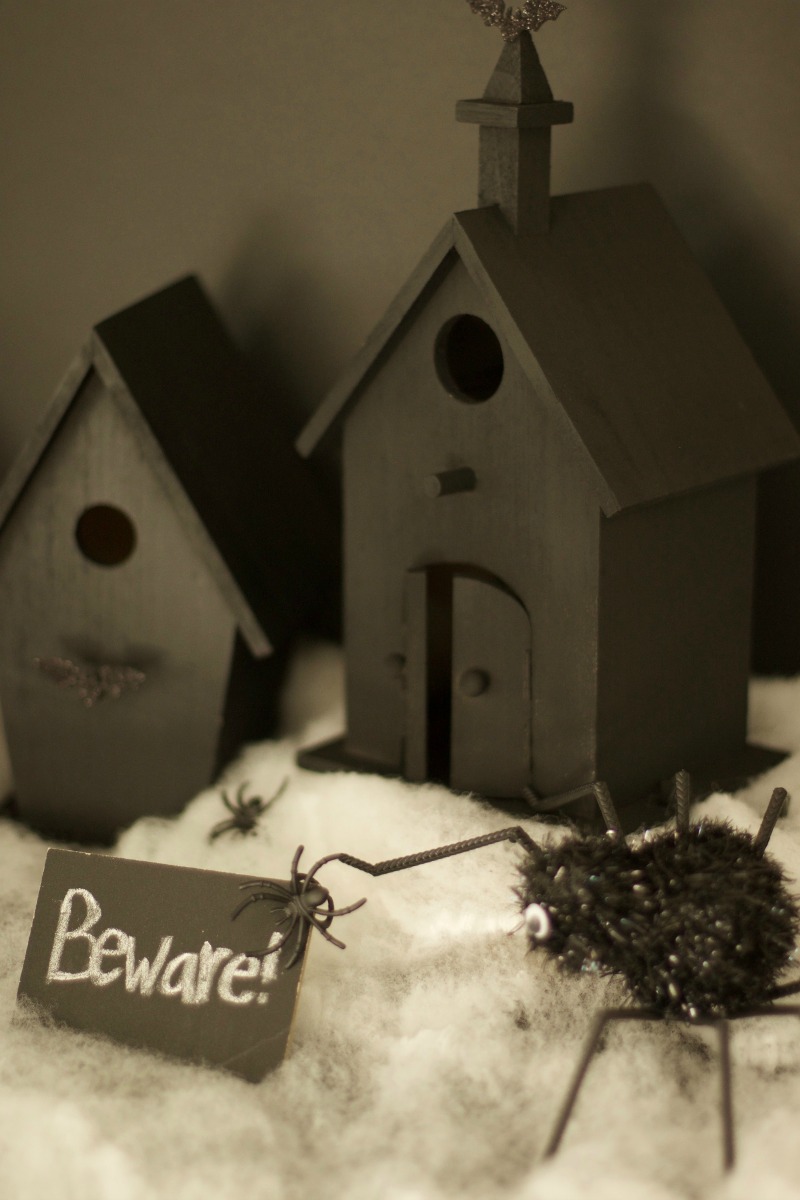 Can you believe I made these out of birdhouses? So simple, right? All I had to do was pick up some unfinished bird houses from Michaels and paint them. Don't worry I used my coupons and the whole thing cost me under $12.00. Total score! My mom loved it so much that when she found out what I was painting she ran right over to Michaels and bought herself some unfinished birdhouses too.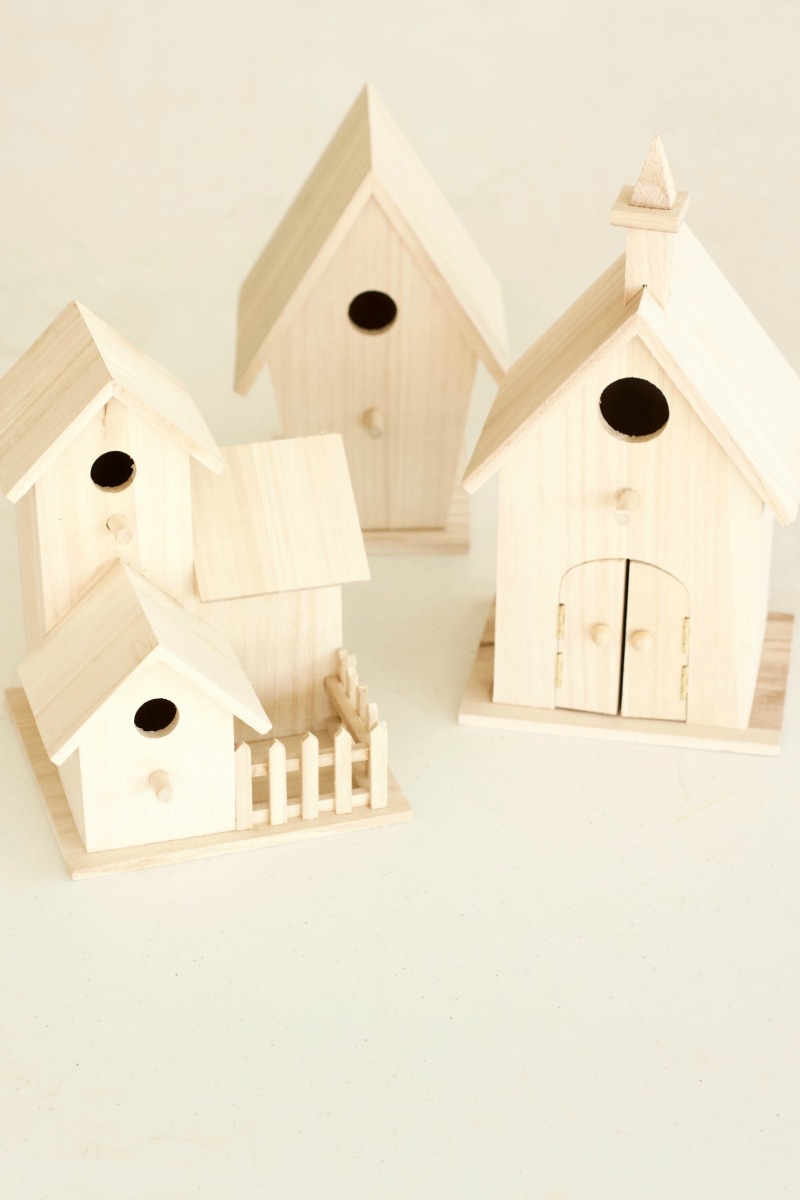 Material Needed:
3 Unfinished birdhouses
Black Spray Paint
Cobwebs
Fake Spiders
I started off by spray painting my bird houses with my favorite black spray paint in flat, you can find it here
. I always keep it on hand because there is always a need for some matte black right? And this one has paint and primer in both so that is why I love it. I made sure to flip the bird housed over once dry to the bottom of the roofs got painted.
Once I was done painting I set up my landscape. I placed an old book on the table and then I covered it with cobwebs that I had in my halloween box. I situated my haunted houses where I wanted them, I set one of the houses on top of the book so it looked like it was on a hill. I had some mini chalk board signs that I wrote beware and boo on and placed them in the cobwebs. Then I took some spiders and set them in different places all around.
I absolutely loved the turnout! It's the perfect touch of Halloween in our home. My boys think our haunted house village is pretty spooky and scary. And for the price and how simple it is to make, you can't beat it!

If you liked this post I would really love for you to share it on social media by clicking the buttons below!