Hey Sistas! Today I am so excited to share with you one of my most favorite cookie recipes. I just love these Monster Cookie Bars so much. I obviously love peanut butter and chocolate and I also love oatmeal cookies. You put them together and bam, perfection. These monster cookie bars have just the perfect mix of chocolate, peanut butter, and oatmeal. I put a little twist into my recipe that makes me love them that much more. Usually you put in normal M&M's but I put in reeses pieces. Oh, if you haven't tried these you definitely need to.
I like making this recipe into bars because it is so easy. You could make these into cookies and just reduce the cooking time a bit. But I love that I don't have to scoop out each cookie. It saves me time and the thick gooey bars are my favorite.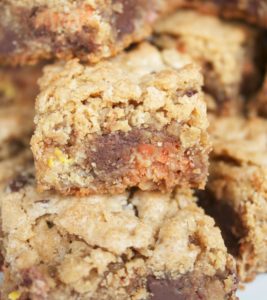 Print
Monster Cookie Bars with a Twist
These monster cookie bars have just the perfect mix of chocolate, peanut butter, and oatmeal
Ingredients
3 eggs
1/2 C butter softened
1 C sugar
1 1/8 C brown sugar
1 tsp vanilla
1 tsp corn syrup
1 1/2 C peanut butter
1 tsp baking soda
3 1/2 C quickening oats
1 C chocolate chips
1 C reese's pieces or peanut butter M&M's
Instructions
Pre heat oven to 350 degrees
Mix together butter, sugars, and eggs until smooth.
Add in vanilla, corn syrup, peanut butter, and oats.
Mix in your chocolate chips and reese's pieces.
Spread in greased 9x13 pan and bake for 20-25 minutes or until edges start to become brown and tooth pick comes out clean.
It is okay if it still looks gooey on the inside because it should firm up a bit after cooled down.
Once cooled all the way cut into bars.
Courses Dessert
Monster cookie bars are the best when you have to make a bunch whether it is for the holidays or a party. They are quick and simple to make. My son always loves to help me make these. I'm pretty sure its because he gets to steal some chocolate chips, he's just like him momma! My family absolute loves these. We like to eat them while they are still hot from the oven and poor big glasses of milk that go perfectly with them.
Sincerely,
patti jean

JOIN THE SISTERHOOD!
If you liked this post we would love for you to share it on social media by clicking the buttons below!
Follow our blog with Bloglovin
PIN FOR LATER: